RFid Based Highway Toll Tax Collection System
Project Cost : 8,000
Dispatched in: 3 Days
Project Code: 1515
Project Photographs:
Video of the project RFID toll collection:
Download Synopsis of the project
Description of the project:
Electronic toll collection system allows the vehicle drivers to pass the toll tax booths without stopping at the toll booths. The toll amount is deducted from the RFID card. This RFID card is rechargeable and account is stored on the records.
Automatic toll collection system will have two benefits.
First benefit is that movement of traffic will be much faster as user will not wait to give the money because, driver has to just show the RFID card in-front of the card reader. And then the RFID based automatic gate control system will open the gate to pass through.
Second benefit is that driver doesn't have to carry the money each time. He/she will just recharge the RFID card by certain amount and will use this card each time he travels. This is little bit similar to using credit cards.
Block Diagram of the project: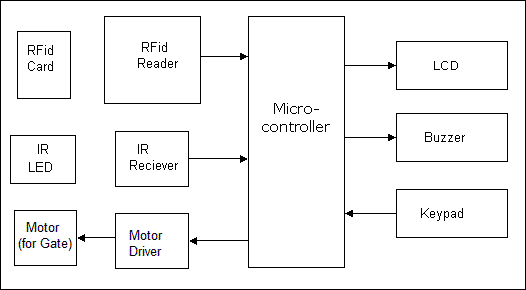 You will get a CD with this project:
CD contains following things:
Project Report in pdf format and in word format ( .doc or .docx )
Circuit diagram
PCB layout
Microcontroller Program in assembly language
Hex file of the Microcontroller code
Datasheets of all the components / ICs used in the project
Power point presentation / PPT file
Description in detail:
Description in detail: It mainly consist of following blocks
1. Receiver: We are going to use an Infrared receiver. It is used to detect that vehicle has passed away from the electronic toll collection plaza.
2. Transmitter: Infra-Red transmitters used are IR LEDs. IR rays from transmitters are reflected from the vehicle and are received by the receiver.
3. Microcontroller: This is the CPU (central processing unit) of our project. We are going to use a Microcontroller of 8051 family. The various functions of Microcontroller are like
I. Reading the RFID card number from the RFID reader. II. Sending this data to LCD so that the person operating this project should read various informative messages. III. Sensing the command given using keypad and receiving signal from the IR receiver. IV. Sending the data to the motor or buzzer depending upon the RFID card number and balance inside the card.
4. LCD: We are going to use 16×2 alphanumeric Liquid Crystal Display (LCD) which means it can display alphabets along with numbers on 2 lines each containing 16 characters.
5. DC motor and Motor Driver: We are going to use a DC motor to open the gate. A motor driver IC is required to drive the motor.
6. RFID card reader: This is one of the most important part of the project. It reads the unique number from the RFID cards and sends it to the Microcontroller.
Applications and Advantages:
1. RFID automated gate project can be used in Toll collection plaza on Highway.
2. RFID based automatic gate can be used in octroi collection booths for faster access.
Future Development for the project:
1. We can send this data to a remote location using mobile or internet
2. Voice alarm system can be added to indicate that card has insufficient balance & persons can't pass through RFID based automatic toll gate system.
Question and answers about this project:
Question: I am from Coimbatore and need a little more advanced version of it which includes a vehicle identification system, vehicle weight detection and much more. Can you provide this?
Answer: Sorry, at present we can't provide these modifications.
Question: If there is no amount in the card will the person be able to pass through the toll? And the second question is, in this project will the card you give already be recharged earlier? Or will you give a card when shown to the RFID reader, just open the toll?
Answer: If there is no balance in the RFID card then respective message will be displayed on LCD display and buzzer will be turned on. And the person or the car will not be allowed to pass through toll. When you turn on the project, at that time each card will have an initial balance of Rs.50. Also, we have provided a keypad to recharge the RFID card. You can press recharge key to go into recharge mode..
Do you have question or any feedback about this project?
Please email us your questions or write comments below.
---
Subscribe to updates from Microtronics Technologies
Similar or Related Projects:
Submit your review

Submit

Cancel
RFid Based Highway Toll Tax Collection System
Average rating:
0 reviews
Call us: (+91) 9021 44 32 22
Email: info@mtronixtech.com
Search projects by Application