Bidirectional Visitor Counter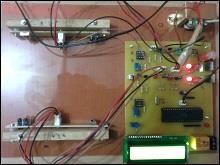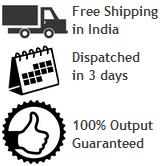 Project Cost : 4,600
Dispatched in: 3 Days
Project Code: 1103
---
Project Photographs:
Download Synopsis of the project

---
Description:
Many times we need to monitor the person/people visiting some place like Seminar hall, conference room or Shopping mall or temple. This project can be used to count and display the number of visitors entering inside any conference room or seminar hall. This is a bidirectional counter which means it works in a two way. That means counter will be incremented if person enters the room and will be decremented if a person leaves the room. LCD displays this value which is placed outside the room.
Block Diagram:

You will get a CD with this project:
CD contains following things:
Project Report in pdf format and in doc (word) format
Circuit diagram
PCB layout
Microcontroller program in assembly language
Hex file of the microcontroller code
Datasheets of all the components / ICs used in the project
Description in detail:
This is one of the Sensor projects which has Infrared sensors involved into it. And it contains following blocks:
1) Microcontroller
2) LCD Display
3) Sensors
Applications and Advantages:
1. This project can be used in seminar halls, classrooms.
2. This project can also be used in industries.
Future Development:
1. We can interface GSM modem to send this data through SMS.
Video of the project: Bidirectional Visitor Counter
Youtube video coming soon
---
Question and answers about this project:
Question: Why you have used Infrared sensors to count the no of persons?
Answer: Advantage of using Infrared sensor is that IR rays are not visible to human eyes. Also IR rays are not affected by any other sources. e.g. If you use LDR as a sensor then it can be easily triggered by sunlight or any other sources of light.
Question: What is the maximum count that can be stored in this project?
Answer: As the microcontroller used is an 8 bit microcontroller. Maximum data is FF hex which is 255.
Do you have question or any feedback about this project?
Please email us your questions or write comments below.
---
Subscribe to updates from Microtronics Technologies
---